"); } // -->





---
Unmanned Submersibles
Remotely Operated Vehicles (ROV)
---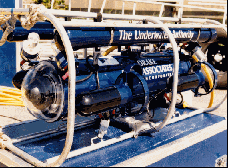 Drake Associates, Inc. maintains and operates a powerful underwater Remotely Operated Vehicle (ROV). Our machine was designed and fabricated to our own detailed specifications. The result is an exceedingly capable and versatile underwater inspection tool. The Drake Associates ROV is a uniquely modified Hydrobotics Engineering Hydrobot. Its features include:

1. Vehicle Dimensions: 20"H x 25"W x 45"L with conformal system framing; 125 LBS.

2. Control console for power, video, lighting, propulsion and umbilical management.

3. Hand controller unit for lights, cameras and maneuvering.

4. Operational Depth: 1,000 Feet (Seawater)

5. 1,700 feet of neutrally buoyant umbilical.

6. Color video camera with 180º pan and tilt, forward oriented.

7. Low lux, B&W video camera (hi-res and hi-contrast) with 180º pan and tilt, rearward oriented.

8. 1,000 watts of Halogen lighting; 500 watts forward and 500 watts rearward.

9. 4 horizontal, direct drive, DC electric thrusters developing a combined 128 lbs. of total forward or reverse thrust.

10. 1 transverse, direct drive, DC electric thruster developing 32 lbs. of horizontal thrust.

11. 1 vertical, direct drive, DC electric thruster developing 32 lbs. of vertical thrust.

12. Internal provision for future upgrade of precision navigation sys tems, high-frequency sonar, video overlaycomputer and manipulator.

13. Ability to move smoothly through three axes of space.

14. Unlimited on-station loitering for long-term surveillance tasks.

15. The system is transported to project sites in its own self- contained command and control van or can be deployed on sea-going vessels with its own 9,000 watt power supply.

We specified during the design phase of the vehicle's creation, an ability to penetrate pipe diameters as confining as 30". The vehicle's propulsive suite can pull up to 1,700 feet of signal/power umbilical in any direction. These two uncommon capabilities translate into a vehicle suitable for inspecting pipeline runs as long as 3,400 feet from a single access point (i.e. manhole). The Drake Associates' ROV is the ideal tool for inspecting:



| | | | | | | |
| --- | --- | --- | --- | --- | --- | --- |
| Sewage Outfall | Stormwater Outfall Piping | Dam Intakes and Penstocks | | | | |
| Combined Sewage Outfall Piping | Combined Sewage Outfall Piping | Water Supply Piping | | | | |

Any application where water depths, penetration distance or other human risk elements precludes the safe use of divers.



---
Autonomous Underwater Vehicle (AUV)
Drake Associates
has formed a strategic alliance with Sias Patterson Inc. to develop and market Fetch!, the world's first Autonomous Underwater Vehicle based on Commercial Off-The-Shelf (COTS) technology. Originally developed for use in scientific research, Drake Associates is working to market the revolutionary product to military and construction/inspection industry. With the capability of pipeline penetrations measured in miles instead of hundreds of feet, the platform is particularly suited to inspections of long pipe or aquaduct runs. The COTS technology provides a low-cost option for military applications where large numbers of units will be utilized in an environment where there is a high risk of loss of the unit. The system uses an all-passive navigation suite that maximizes stealthiness for Special Operations use.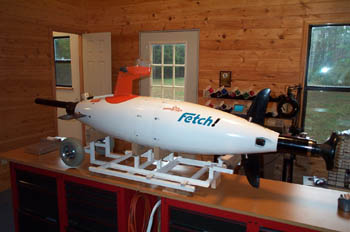 Fetch! shown on its transportation frame.
---
|Home||Co.Profile||Submersibles||Underwater Inspection||Underwater Construction||Marine Construction||Coastal Project Planning||Hazmat Diving|
|Fathometric Survey||Sonar Services||Project Management||Borer Detection||Contact Us||Project Info||Email Us|